Perfect aging of 1,500-2,000 cigars. Impressive size and design, unique technology.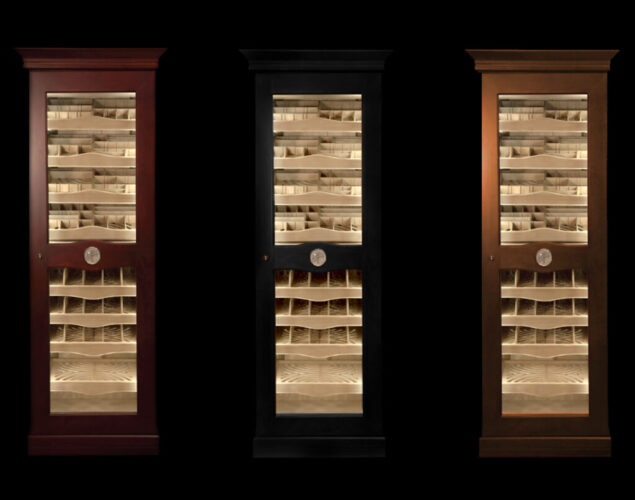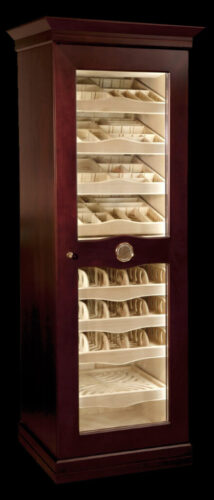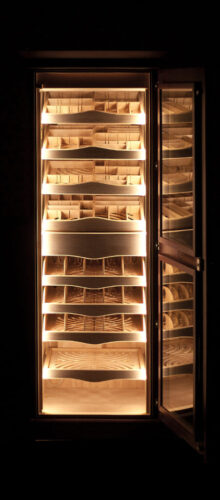 Precise digital humidification is a basic function, moreover all Maklary cigar cabinets are available with digital convection cooling, heating, extra convection and UVC air disinfection.
Style
Timeless elegance, classic and modern at the same time.
The curved fronts providing special light effect and the specially milled trays also are Maklary trademarks and form integral parts of the design.
Design of full solid wood
Maklary humidors are exclusively made of top quality solid wood materials. Neither plywood nor veneer is used. We create top quality and lasting value works from the most valuable natural wood materials.
Unique forms
The form of door, color of glass, footing and crown are individually customizable.
Unique design
We make cabinets from any type of solid wood with the required solidity on demand, whilst the interior lining and trays are made of Spanish cedar. We offer matt, semi-gloss and high-gloss lacquering, or any specific color. Our craftsmen manufacture crest etchings and specific carvings on demand.
Massive load-bearing frame structure
Maklary humidors are made for a lifetime. In order to avoid twisting and warping, humidor cabinets are held by a massive frame structure. It is positioned between the exterior solid wood and the interior Spanish cedar lining, thus the frame is completely invisible.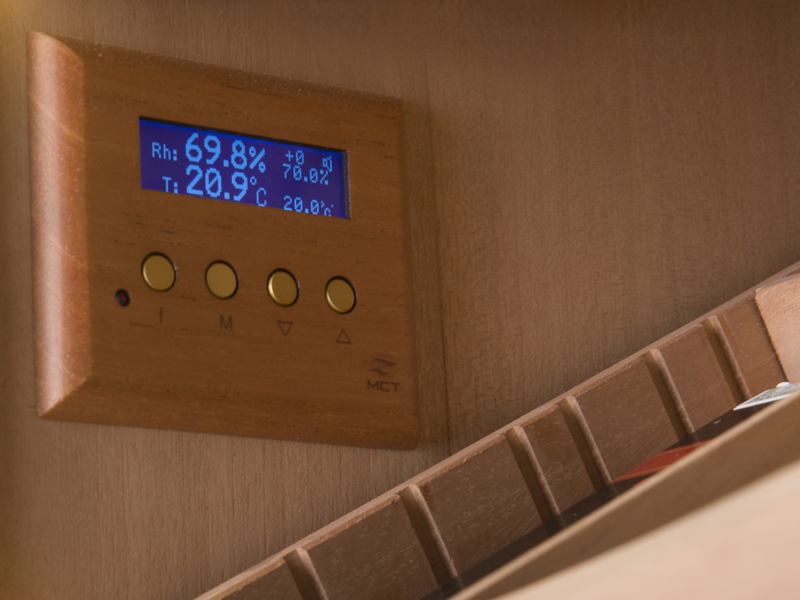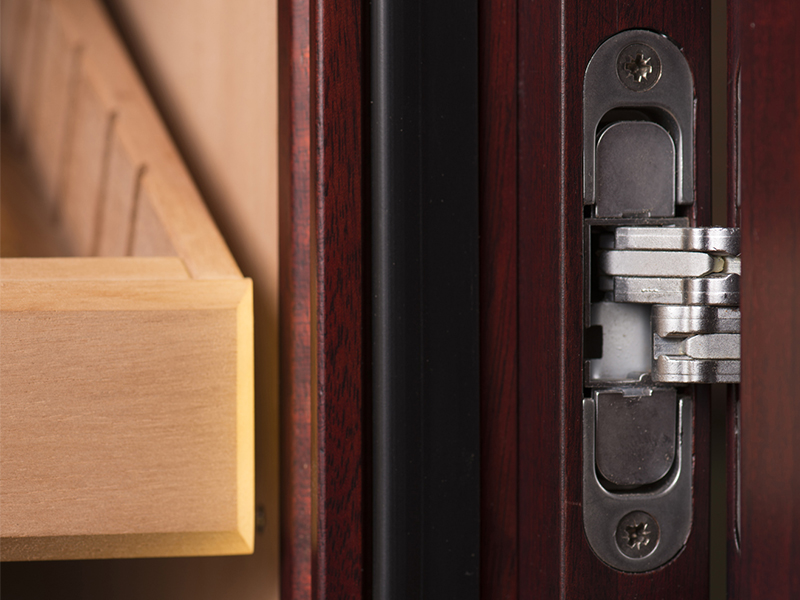 Central control unit
The electronics responsible for the central control of all functions is positioned in the Spanish cedar case, recessed into the sidewall. German display, Swiss precision capacitive sensor, American processor. We use only the most suitable parts for each function.
Interior illumination
The interior part of the cabinet is equipped with hidden led lines running vertically on both sides.
Our conscious engineering in lighting technology ensures the impressive appearance provided by a Maklary humidor cabinet in the dark.
Digital Humidification
A powerful MCT XL humidifying machine –specifically developed for this model – is responsible for the steady humid air, blowing through a precisely constructed air duct to each tray, on all levels.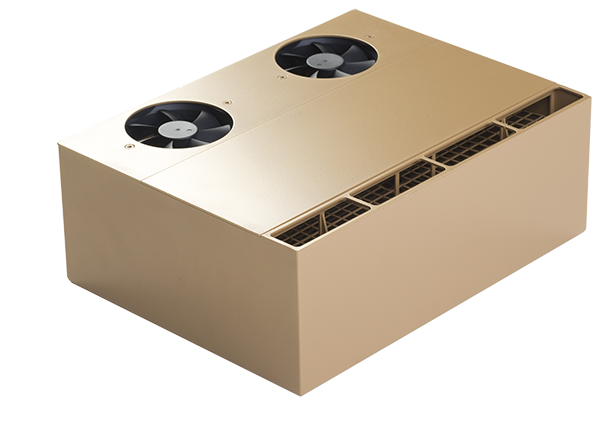 Easy serviceability
The full electronics is modularly interchangeable to ensure immediate serviceability. On-site repair does not require a professional, replacement of modules can be performed by almost anyone.
Interior design – optional trays
Each tray is milled of 8 mm solid Spanish cedar tables using a unique, special milling pattern. The pattern is functional and aesthetic at the same time, thus the largest part possible of each cigar's surface is exposed to humid air. All trays can be pulled out and slide on special hidden rails.
A Maklary humidor can be built up from the following elements based on individual demand: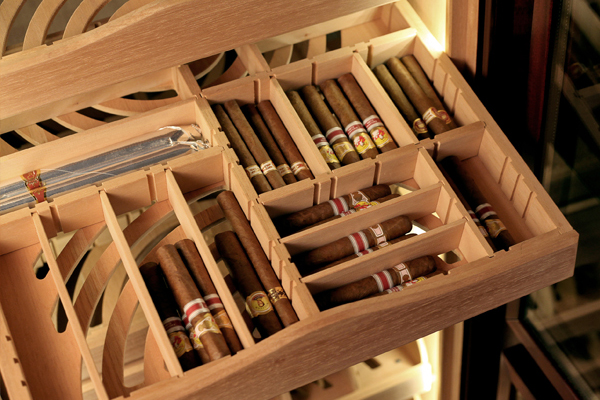 Slanted tray
Interior layout is freely variable. The tray is our trademark.
Compartments follow different cigar sizes: 132 mm for the shortest ones: robusto, corona etc., 160 mm for types like piramide, corona grande, 180 mm for lonsdale, churchill, lanceros and double corona cigars, whilst 250 mm for special sized ones. Each tray serves for storing 100-150 cigars.
Tray with compartments
By using the removable dividers, trays can be divided into a maximum of five compartments, each capable of storing 30 cigars of Churchill size. If you do not wish to use the divider, you can store full boxes of cigars on the trays. Each tray can store 150-250 cigars in total, depending on their size.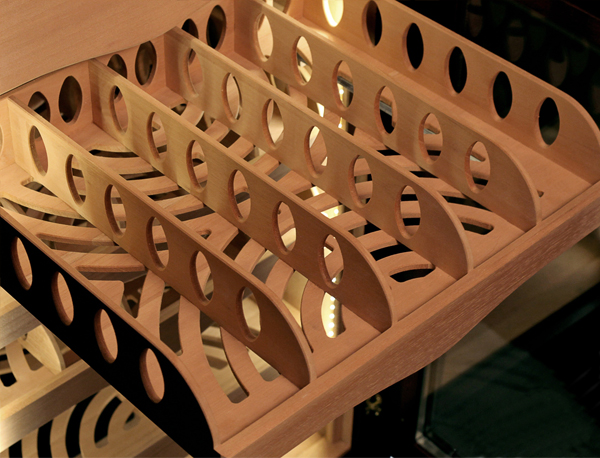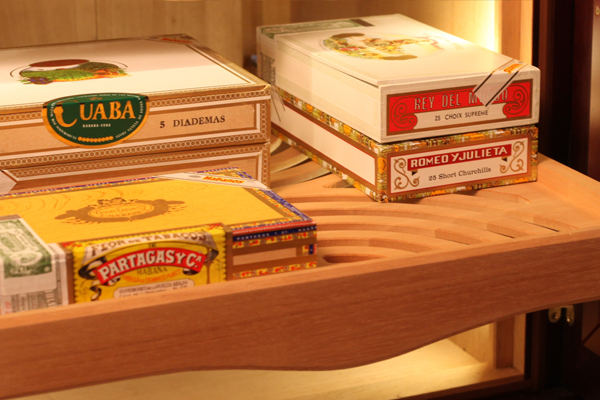 Box storage tray
Designed for storing 8-10 cigar boxes.
Hidden drawer
You can store here the tray divider elements, lighters, cigar accessories and your most precious cigars.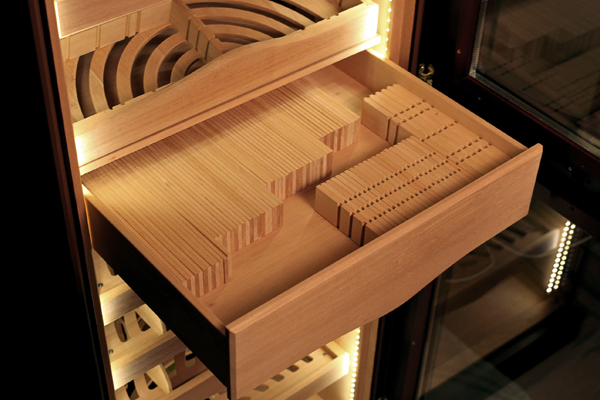 Optional technological features:
Storing cigars requires not only constant humidity of 70 %, but also a constant temperature of around 20 °C. If the room is air-conditioned, and the temperature is almost constant throughout the year, then thermal insulation, cooling, heating and related extra convection are not necessary. In case of uneven temperature, the following Maklary technologies provide perfect solutions.
Convection
The highly efficient integrated convection solution also represents a Maklary innovation: the fans draw in and mix the air in a hidden air channel on the left side of the humidor cabinet on each level, then blow it back steadily on the right side on each level.
UVC air disinfection
As a part of convection, further extra function is available: 2 germicidal UVC lamps turn on during the operation of fans in the air channel, thus destroying all existing organisms in the air, like mold spores and bacteria. Special Maklary technology.
Convection heating
The custom-made heater is placed in its own air channel which is hidden under the backside cedar lining. Due to the specially designed air channel, the fans can disperse warm air evenly in the internal space.
Thermal insulation
The dual-chambered, triple-glazed glass and the top quality thermal insulation – of 4 cm thickness, positioned between the exterior and the cedar lining – make a real refrigerator of the exclusive solid wood cabinet.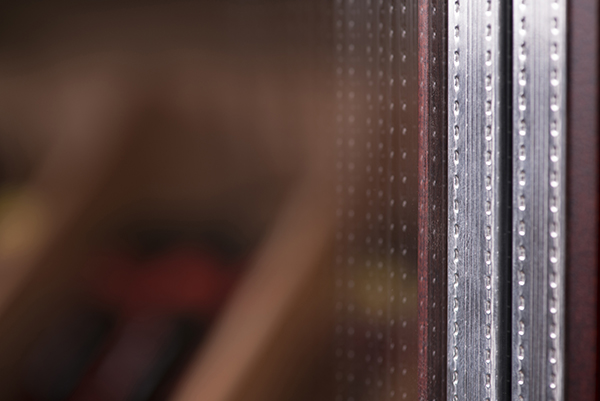 Extremely silent and powerful convection cooling
This special cooling solution is also a unique Maklary technology.
Constant temperature is maintained by the special, doubled surface cooling panel in the air channel developed for the cooling of a humidor. The fans perform steady cool air blowing on multiple levels.
Top quality German inverter compressor, which also provides powerful performance at base speed, thus operating silently, due to the appropriate sizing.
The compressor – already operating silently – can be placed in a soundproof box due to the precise engineering, resulting in the absorption of further 70 % of its noise.
Operation at higher speed is also optional, which ensures extreme cooling performance.
The specific suspension of the compressor guarantees 100 % vibration damping.